About our Parts
Rebuilding your carburetor is one of the most rewarding parts of a restoration. We can provide the correct kit and parts for a "do it yourself" rebuild, you can use our Find Your Carburetor Kit page help you get started.
Daytona Parts Company supplies high quality carburetors, repair kits and parts for a wide range of applications, starting in 1925 up thru the present day. Since 1974 we have been a premier supplier for kits and parts for most types of carburetors, domestic and foreign. Only the highest quality standards are maintained for all applications.
Our kits contain all parts necessary to complete a "Do it yourself" rebuild of your carburetor. Kits include Accel pump, needle & seat, gaskets, check valves, clips, springs, and other small parts. We also stock many other different carburetor parts. Please e-mail your requirements.
---
More Information
Click an image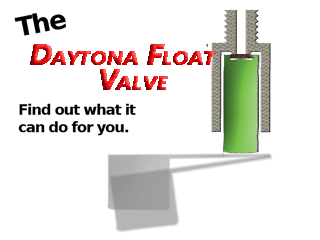 Our parts are ethanol resistant
---