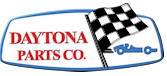 Daytona Parts UN2 Universal Carburetor
New DAYTONA UN2 Universal High Quality carburetor made especially to replace factory 6 cyl engine 1bbl carburetors. Fits most 4 and 6 cylinder American built engines from 1932 thru 1967. Some applications may require a different air filter than factory stock. Adjustable high speed main jet, adjustable throttle lever, manual choke, and bolts right on with no modifications. Phone or email for more information and pricing.
In Stock
Call to Place Your Order!.